Bayern should have decided to expand the coaching team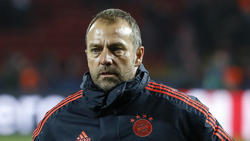 The FC Bayern celebrated its next gala performance under the direction of interim coach Hansi Flick in the 6-0 victory in Belgrade. The 54-year-old is still diligently collecting arguments for remaining on the chief post over the winter or even beyond the end of the season. In Munich, however, one does not seem to want to commit itself. With Mauricio Pochettino, Thomas Tuchel and Erik ten Hag, Bayern continues to focus on three candidates who could take over the office of Flick. This reports the "Sport Bild".
    
The most likely scenario for a change on the bench is therefore that Flick ends the season and takes over a successor in the summer. Tuchel would probably know if it goes on with Paris Saint-Germain for him, Pochettino should use the time to learn German and ten Hag already hinted that he would leave Ajax after the season. FC Bayern wants to sign new coach Contact By the way, according to the report, the Bayern executives were admitted to Tuchel immediately after the dismissal of Niko Kovac. The former BVB coach "should be able to imagine a commitment to Bayern," it says. Changes in the coaching team are decided according to "Sport Bild" anyway. Should Flick stay until the summer, the current combination of Flick and assistant coach Hermann Gerland should be supplemented in the winter by another assistant. Meanwhile, it seems more than likely that this will happen. "I've read somewhere: Bayern plays again like Bayern. I would not deny that," quoted "Sport Bild" Bayern CEO Karl-Heinz Rummenigge. Words suggesting that the management team at the Isar is completely satisfied with Flick.