Bayern: Tuchel "not interested" in Munich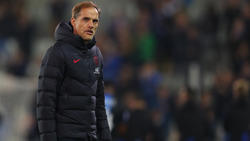 Until the upcoming Bundesliga away game at Fortuna Dusseldorf (23 November) Bayern wants to have answered the coach's question, according to President Uli Hoeneß. Until then, numerous names will be discussed daily. Only a handful of candidates can be removed from the list. After the Dutchman Erik ten Hag (Ajax Amsterdam) indirectly canceled FC Bayern on Monday and claimed to remain loyal to his current club this season, the record champions have been "Sky "-Infos now short-term to the camp turned by Thomas Tuchel, but now also a basket cashed.
    
"I'm not interested because I'm coach of Paris Saint-Germain, I have a contract and I do not think about another club," Tuchel said at his club's press conference ahead of Wednesday's Champions League game against Bruges. The 46-year-old pointed out that he also has a contract for the upcoming season in Paris. Tuchel thus confirmed "Sky" assumptions that a change for the former BVB coach is out of the question. Whether Tuchel would be available in the summer, meanwhile depends largely on the performance of PSG in the Champions League. Should Tuchel fail prematurely with his team in the premier class again, the Parisians should probably give him the pass. Allegri consultant contacts FC BayernAll things are different with the availability of other prominent football teachers. Thus, both José Mourinho and Massimiliano Allegri can imagine a commitment to FC Bayern. That's what Sky has learned from the environment of the two star coaches. In the case of Allegri it was apparently the adviser of the Italian, who is well friends with Karl-Heinz Rummenigge, who has brought his protégé on the Säbener road into conversation. Also at Arsène Wenger, the transmitter has felt , And also to the Arsenal icon there has been no contact from Bayern side. Asked whether the Frenchman could imagine a change to the German record champion, the advisor of the 70-year-old declared: "We will see." According to "Bild" Wenger would even jump in as a stopgap measure until the end of the season. Rangnick would like to FC BayernAfter the environment of Ralf Rangnick "Sky" meanwhile has learned that the ex-RB-Leipzig coach would accept the job. However, the reservations that exist at FC Bayern against the "Professor" are problematic. In Munich, there is indeed a pro-, but also a contra-camp, which rejects a commitment of Rangnick. Also on the candidate list of Munich should Mauricio Pochettino stand. Tottenham would let the Argentine, who can imagine a farewell allegedly, be drawn on a suitable offer, contact to Bayern has it according to "Sky" but not yet. Another name traded on Säbener Straße is that of Roger Schmidt. "Sport1" claims that the former coach of Bayer Leverkusen in Munich is also considered a candidate.