Bundesliga votes on BVB, Gladbach, FC Bayern and Co. games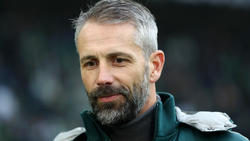 BVB defeated Jürgen Klinsmann and Hertha BSC, FC Bayern München's first defeat under Hansi Flick and next attacking Fireworks of Borussia Mönchengladbach: The 13th matchday of the Bundesliga had so far in itself. The votes for all matches.Oliver Glasner (VfL Wolfsburg coach): "We tried everything until the end, but we made too many mistakes for a win, maybe we were a bit too euphoric after the 2-2 draw Bremen has been waiting for the one counter and scored the third goal. "
    
Florian Kohfeldt (Werder Bremen coach): "The will, the courage and the passion were there, we are happy, but nothing is done yet, we have to go down against Paderborn and we would not have complained about a draw." Marco Rose (Borussia Mönchengladbach coach): "I am very satisfied with the result and the performance, it was a good game and both teams contributed, and it was well deserved, even though Freiburg could have equalized, and in the end we can do more Goals scored. "Christian Streich (SC Freiburg coach):" Gladbach made a great play, we kept in phases, it was extremely difficult, but we did not stop, I would have found it interesting, if we after the 1: 3 3: 3 and we had two big chances. "Hansi Flick (Bayern Munich coach) …… to the first defeat as Bayern coach:" I'm not freaking out after the four wins and ic h not now either. We did not pay attention twice in the first half. We knew that Leverkusen can counter very well, can switch very well and that they exploited mercilessly. I can not blame my team on the will, on the commitment. We were too negligent with our chances and we really did not do well. "Hasan Salihamidzic (Sports Director FC Bayern Munich) …… to Hansi Flick (before the match):" He has many personal conversations, he looks, that he rotates, that he takes everyone with him. Of course the players like that. "… to the players under Flick (before the game):" If you see the training sessions, they are good. It's fun to watch the players. It has changed a lot with the change of coach. Also in the minds of the players and you can see that on the pitch as well. "… on the search for a coach (before the game):" We are totally relaxed, not at all under pressure. The team wins, the coach is doing very well. He is the best coach for this situation. We have an agreement with Hansi Flick that he will do it until the winter and then we will sit down again and continue watching. "Manuel Neuer (captain Bayern Munich) …… to the game:" There was definitely more in it for us. It is unfortunately in football, that also includes a bit of luck and that we did not have on our side today. The second half was neat. "… on chances:" The concentration was there in the final. Of course, Hradecky also did well, you have to say that. There was not much missing, but of course we have to score the goals and that was missing. But it is so much better if you are clearly the better team in the second half and have the chances to score as if you had lost 2-1 and had no chances. "Thomas Müller (scorer Bayern Munich) …… to the game: "Even if we win the game 3: 2 or 4: 2 or 5: 3, then no one can say that it would not have been earned. I think that we handled all this quite well, today we met an opponent who had a lot of speed ahead and was extremely efficient, especially in the first half. On the other hand, there was an unprecedented inefficiency. That has nothing to do with the performance and the commitment, that can not be explained to us. "Peter Bosz (Coach Bayer 04 Leverkusen) …… to the game:" We were lucky. What we missed the last weeks, where we had maybe as many chances as Bayern today, that was on our side today. I think we did well in the first 30 minutes. We played courageously, put pressure on the front and also scored the goals. Then the 30 minutes, against a team like Bayern, because the rooms were too big. Then we changed over, defended backwards and also had good luck in this phase. "… to the team:" That was character, mentality, I can not say otherwise. A big compliment to the guys "… to the Champions League:" We have to be lucky again. Atlético plays in Moscow, they can not win there and we have to win against Juventus. "Lukas Hradecky (Goalkeeper Bayer 04 Leverkusen) …… to the game:" This game had everything. I had lost my contact lens, the first 20 minutes I had seen almost nothing. Try to play with one eye against Bayern. Ten lath shots, ten postshots, now I have seen what it takes to win against Bayern. "Kevin Volland (Bayer 04 Leverkusen) …… to the game:" I think we in the first half good pinpricks have set. Where Bayern has not yet put so much pressure, we could have made the 3: 1. The second half we were of course lucky. The Bayern have put a lot of pressure, have created opportunities. There we had the dizziness we needed. "Concentrating on the goal:" We also had a bit of bad luck in many situations. It certainly has to do with the concentration in front of goal. We are working on that. Such a win as today does the whole team well. We go home with a very good feeling "Sven Bender (Bayer 04 Leverkusen) …… to the red card to Jonathan Tah:" On the pitch I had the feeling that it is not a red. It's okay with me, I respect the referee and accept the decision. "… to the game:" It has been a close lead and Bayern is currently in a good phase, playing with a lot of momentum. But we played very passionately We did not have much luck in many games during the season and I think what we did not have in many games we got back today. We threw everything in. "… to the championship fight:" We have a very good team, but the Bayern are already a good team and just as they are currently playing, they are extremely strong. I have to take a hat off today, it was extremely difficult for us. We are happy, but very broken. I think over the entire distance, if Bayern plays like in the last weeks, then it will be very difficult. "Jürgen Klinsmann (Coach Hertha BSC) …… to the game:" We would have earned more, minimum a 2: 2. This is of course annoying with the decision that came from Cologne, but that would have done us damn good to make the 2-2 in the 48th minute. Then I think, we would have won the thing too. "… to his pictures with the smartphone before the game:" That was spontaneous. This input song, that really got me moving. "Davie Selke (Hertha BSC) …… to Jürgen Klinsmann:" Anyone who knows a bit about football has seen what he has already triggered in the few days with his coaching staff. That's why we are also relaxed under the circumstances, because we know that we'll turn things around. "Lucien Favre (Borussia Dortmund coach) …… to the match:" It was a fantastic victory. We gave everything. They did their best. It's not easy to defend a half-time with ten men. "… about his state of mind during the match:" I was focused on the field throughout the game. We should run a lot and we did that well. Like a real team. "… to the yellow-red card of Mats Hummels:" I can not say more about that. He already got a yellow card at the beginning. He has to anticipate. That can happen to any player. It's so fast. We made it together. "… on the late substitutions:" We said at halftime, we have to show character that we are a team. They fought and ran a lot. We always believed that it was possible. "… on the atmosphere in the team:" We always have a good mood. We still have to go to the pitch with joy, but we want to give it our all. "Michael Zorc (Sporting Director Borussia Dortmund) …… on the relationship between Favre and the team:" That's what we say all along, that work between coach and team very good. You've seen that on the pitch today as well, otherwise you will not make such an achievement here today, otherwise not everyone will be in such a position for the team. We are convinced that we can reverse the trend and today it was an important step in the right direction. "Marco Reus (captain Borussia Dortmund) …… to the game:" In the current situation, it does not matter how we play, The main thing is to get the three points. I think, especially in the first half, the first 30 minutes we played well. Sure, with a new system and I think we had good procedures, we deserve the two goals. Then they make the 2: 1 out of nowhere. We said that we really want to bring that over time. That was just suffering and fighting in the second half. We accepted that and the three points are ours. "Alfred Schreuder (TSG Hoffenheim coach):" The reaction after the defeat last week was good. After one hour Dusseldorf has made more pressure, we were then no longer good in the Umschaltspiel. We gave the opponent power and air. "Florian Grillitsch (TSG 1899 Hoffenheim) …… to the game:" We missed the moments in the second half, where we might have made a goal over the switching game, then I think, the bag is too 2-0. So we allowed ourselves to be pushed in a bit too far, but still defended everything well. Then of course it's bitter if you get the compensation so late. "Friedhelm Funkel (Fortuna Dusseldorf coach) …… to the game:" In the first half we were a bit too passive. After 25 minutes we started playing football, playing more courageously. Everybody noticed, that something is possible and I demanded that from my team in the half time. I said that I will not leave the stadium as a loser, I am firmly convinced of that. I am also convinced that we will win the game yet. We have not, but because of the second half we could have. "Rouwen Hennings (scorer Fortuna Dusseldorf) …… to his scoring:" That it works for the moment, I am very pleased. I hope it will continue for a while. "Markus Gisdol (1. FC Cologne coach) …… to the match:" I was especially happy for the team because they did a good job in the second half and had a lot of opportunities. Then you always have to be careful that you do not catch a counterattack or a carelessness at the back and at the same time you want to put pressure. Especially in the second half the team presented themselves again as we wish it to be. "Florian Niederlechner (scorer FC Augsburg) …… to the atmosphere in the stadium:" It was an absolutely awesome game, you have to say , Brutal mood also from the Cologne fans, as you are used to it. Unfortunately, we are not the winner, but we gladly take the point. We want to gild that against Mainz next week, so we can get the three points there. "Steffen Baumgart (SC Paderborn) …… to the game:" Now we have five points and then we fight for the sixth and seventh points , We hope to get them, but we know how difficult that will be. We saw that today, you can not allow yourself mistakes against a top European team. Nevertheless, tomorrow we will go back to the evaluation and from Tuesday it will be full throttle on Bremen. "Klaus Gjasula (SC Paderborn) … to the game:" In the first half we were clearly the worse team. Leipzig clearly showed us the limits. We said in the booth that things can not go on like this, we have to show another face now, we have to keep the game open as long as possible. We played a great game in the second half and with a bit of luck it may end at 3: 3. Nevertheless, the team showed a great morale. "Luca Kilian (SC Paderborn) …… to the game:" In the second half we had decided that we go out and show again what we have on it and the first half complete to forget. I believe that we have shown quite well and can build on that. "Timo Werner (scorer RB Leipzig) …… to his current performance:" That's nice, that it runs just as well with me, but also as Team is running well. Even if we should forget the second half today quickly and have to, we have nevertheless set the course again in the first half to win. "… to the bottom of his scoring:" If I knew that myself, would be It has gone so well in recent years. We play very good football forward. If you see, Patrik Schick scored in the first match right from the start, I think Marcel Sabitzer got his fifth or sixth goal of the season, so many he had not had. You can see that we are playing much more offensively. Although we also get a lot of goals, we should put that off a bit, but we play very purposeful forward and there are goals inevitable. "