Lewis Hamilton uses FIA Gala for swipe at Ferrari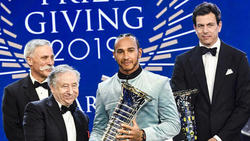 Lewis Hamilton repeated many things at the World Championships press conference on Friday in Paris, just before the final FIA Gala, which he had said before. But he could not resist two rather explosive pinpricks. First he revealed that Max Verstappen (in theory he might have meant Fernando Alonso) called his Mercedes team boss Toto Wolff because he wants a cockpit for 2021. And then the 2019 hotly debated Ferrari engines were also an issue.
    
The races had been better than the qualifying, Hamilton said – just to pinpoint Maranello: "We split the Ferraris often, even though they all of a sudden had 30hp more than anyone else, but Jean can answer questions for sure . "Hamilton meant so FIA President Jean Todt, who was asked in the course of the World Champion PK to him on the stage. The fact that Ferrari should have tricked the engine, is one of the stories of the Formula 1 season 2019th The Italians but no fraud could be specifically demonstrated. That the 34-year-old taunts so openly against Ferrari comes as a surprise to observers. Ferrari President John Elkann, with whom Hamilton met twice in 2019, will certainly not like such statements. For Hamilton, 2019 was nevertheless "a good year, I would even say: the best year of my entire career." The fight against Ferrari had been "intense". "But having a third team this year has made it even more challenging for us."