Lewis Hamilton wants a "strong Formula 1 woman to knock the field"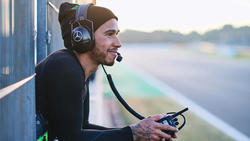 "I thought I would once again be the only dark-skinned person [bei der FIA-Gala]," says Lewis Hamilton bluntly in one new Mercedes video. He wants to stimulate the diversity debate in motorsport and make decision-makers rethink. The six-time Formula 1 world champion wants affordable junior categories and female competition in the premier class. The Brit likes to compare his career with the feature film "Cool Runnings". In it, a Jamaican bobsleigh team tries to fight until the Olympic Games. That's how he felt in the early years of karting – penniless, but full of enthusiasm for the sport, says Hamilton on the "Graham Norton Show".
    
The Mercedes driver is convinced that he would not have made it into Formula 1 without his father's support and Ron Dennis' McLaren deal. If Hamilton had been born 20 years later, this path would not have led him to six world championship titles, he believes. The conditions for young kart drivers today would have deteriorated dramatically. "The sport needs to be made more accessible." "To be honest, it got a lot worse. My father spent around £ 20,000 in the first few years. But nowadays it's much more expensive, so there are hardly any working families who can afford it. These are just rich families who play along, "criticizes the 34-year-old. He wants more diversity already in the junior categories, and he would like to work on this together with the FIA , "I want to be involved. Because the FIA ​​could do more. It just doesn't have to be that expensive. It should be much more open." Hamilton makes a comparison: In football or tennis, children from poorer backgrounds would also grow to be top stars. "I would like to bring the sport back to its roots." This is a matter close to Hamilton's heart because of his own history. "This is really important to me. I have already racked my brains about it and had long discussions about what I can do in this sport." Because he is also aware that the commercial side represents other interests than he himself as an individual. He looks at the development in the youth series with a concerned eye: "If you look at how motorsport has changed: Formula 3 or Formula Renault are not more what they used to be. Now the GP3 or GP2 [aktuell Formel 2] are the important series, but they are becoming more and more expensive. But they shouldn't be that expensive. "Even karting is becoming more and more expensive. There are certain commercial interests behind this, Hamilton knows. "So I try to think about what I can do. Of course, the lack of diversity is an ongoing problem – and will be for a long time to come." "I want to help the boys. I want to change the sport so that it is more diverse I also want to encourage teams to become more diverse. The sport needs to be more accessible, "he says to rights holders and rule-keepers. Hamilton wishes" young, strong "driver. He is particularly concerned with young drivers who are missing the sport due to lack of financial resources Cannot exercise funds. This would automatically put certain children at a disadvantage, not just in terms of origin. "I met an Asian family at the FIA ​​gala. I thought before that I would definitely be the only dark-skinned person again, because that's usually always the case." Hamilton was therefore pleasantly surprised and also pleased people from other backgrounds at the award ceremony to be found in Paris. "It is nice to see that diversity is slowly moving in, because we live in a world that is open to everyone." Even women in motorsport. "I hope that one day a young, strong woman will enter Formula 1 and blow the field. That would be something very special!", He also campaigns for gender equality on the grid. In 1992 Giovanna Amati was the last woman to drive a Formula 1 race.