World Cup sensation perfect! Outstanding Peter Wright dethrones Michael van Gerwen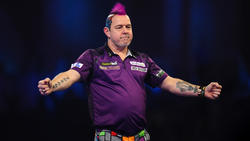 Bird of paradise Peter Wright has crowned himself Darts World Champion for the first time and prevented the defense of the title by Dominator Michael van Gerwen 7: 3 and caused a real surprise. For "Snakebite", as Wright is called, it is the greatest success of his career so far. The victory at Alexandra Palace not only gave the Scots the 25 kilogram Sid Waddell Trophy, but also a prize money of £ 500,000.
    
Wright ended his misery against van Gerwen, whom he had previously lost in nine major finals. In the world rankings, the new world champion, who received numerous recordings with a maximum score of 180 on Wednesday, improved to second place. The duel at the highest level was an impressive final point and real advertisement for the sport after almost three weeks of the World Cup. "It was my turn now" "I had the feeling that it was my turn in advance. It feels great." said the winner after his triumph: "When I think about how often I was beaten by Phil Taylor and Michael van Gerwen and others. It was a tough time. But it was my turn now." Van Gerwen presented himself the clear defeat as a fair loser and said: "Of course I'm very disappointed, but what should I do? I missed the important throws. And if you don't take advantage of such opportunities against a player like Peter Wright, you lose. He has a lot played well. I think he played a phenomenal World Cup, so: hats off. "MvG counters Snakebite's dream start The challenger, who was celebrated by the audience, took three strong appearances against Jeffrey de Zwaan (4-3 ), Luke Humphries (5: 3) and Gerwyn Price (6: 3) took all of their confidence into the finals and quickly took a lead of 2-0 sets. The quiet New Year's Eve ("watching a film in the hotel and falling asleep before midnight") initially seemed to have done the Scots good. At "DAZN" he announced before the match: "A new snakebite is playing that is very happy with its darts. I am ready." Only after his false start and the two breaks used for advertising did van Gerwen put a big shovel on it and picked up on his usual high level. In the third set he threw one strong shot after the other, his average of 121.9 points gave Wright no chance. The hoped-for high-class endgame developed, in which the brave Scotsman was not intimidated, although van Gerwen sometimes roared and cheered frighteningly. Wright missed the important 3: 1 lead by just a few millimeters. The rapid darts spectacle in front of 3000 spectators in the "Ally Pally" compensated for many games in the final rounds, which were more pronounced than expected. It went back and forth: Wright threw seven perfect darts and checked out with impressive certainty, the interim 4: 2 with 15 of 25 double hits amazed not only van Gerwen, but also numerous experts. He did not notice that Wright had previously lost 59 games against van Gerwen. "The Green Machine" struggled again to 3: 4, but despite decent performance he had to surrender to the outstanding Wright, especially in the final phase. "Peter Peter Wright Peter Wright Peter Peter Wright," it sounded at full volume in the arena in north London. Long-time winner van Gerwen had already been booed when he came in. Right ended the match with an average of 102.79 points per recording and a checkout rate of 53 percent (24/45). Van Gerwen scored better on average (102.88), but "only" met 40 percent of his attempts on the double fields (18/45).