Do FC Bayern and BVB benefit? FC Barcelona distances itself from Werner, Alaba, Havertz and Co.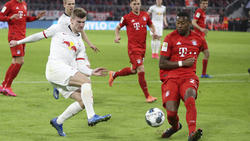 Numerous stars from the Bundesliga are associated with FC Barcelona. But now the Catalans are apparently withdrawing from almost all transfer negotiations. FC Bayern and BVB could benefit from this.
The Corona pandemic threatens Barca – like all clubs – a huge minus. The current league leaders of La Liga could be missing 60 million euros in the summer if the season is not continued.
    
Such a scenario would also have a drastic impact on the Catalans' transfer efforts. As "Mundo Deportivo" reports, Barca wants to refrain from many possible new signings. Coutinho as an exchange object for Neymar? Accordingly, a change from Timo Werner of RB Leipzig is no longer up for debate. The same applies to David Alaba from FC Bayern, Leipzig's Dayot Upamecano and Kai Havertz from Bayer Leverkusen, with Barca only wanting to pull back PSG star Neymar and sign a contract with Lautaro Martínez from Inter Milan. However, it is unclear whether the transfers can be realized. With Philippe Coutinho and Ousmane Dembélé, however, FC Barcelona would certainly have attractive exchange candidates. Werner, Havertz and Upamecano have always been associated with FC Bayern and BVB in the past. Barca's exit would increase the chances of the Bundesliga duo, and Bayern could also benefit from the decisions made at Camp Nou at Alaba. The defense specialist is said to have contacted FC Barcelona. "Sky" also reports that "Alaba has changed its adviser," citing "association circles". The defensive all-rounder will therefore be represented by star agent Pini Zahavi in ​​the future. According to the "picture" the deal is not yet fixed. Zahavi is said to have very good relationships with the top Spanish clubs.