Jadon Sancho agrees on a mega contract with Manchester United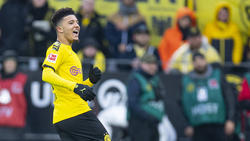 Despite his tender age, Jadon Sancho has long been indispensable at Borussia Dortmund. Clubs from England and other parts of Europe have already positioned themselves and are preparing multi-million dollar offers for the BVB youngster. FC Bayern should also remain interested. Another hot trail is said to lead to Manchester.
ManUnited offers Sancho mega-contract BVB star comments on rumors PSG wants Sancho as a replacement for Neymar Did Sancho make any change request? Sancho on Klopp's list at the top currently have no eye for the rumors of change about him, but concentrate entirely on Borussia Dortmund and his game, the English press wants to know on Monday that the course has been set for a farewell from Dortmund. The "Telegraph" reports Exclusive that Manchester United wants to make the 19-year-old a club-internal record transfer, according to which the Red Devils have already agreed with Sancho on a contract that would bring the English international 12 million euros a year. However, the BVB has not yet reached agreement on the exact amount of the transfer, the report says. However, more than 115 million euros is "likely". Previous United record entry is Paul Pogba, who moved to Manchester in summer 2016 for 105 million euros. Sancho's contract with BVB ends in the summer of 2022.Update 01.03.2020, 4:28 p.m. There is always speculation about the future of Jadon Sancho. Now the BVB star has commented on the rumors: "I do not look at all these things at all," the Englishman, who contributed to the scoring 1-0 victory of his Dortmund against SC Freiburg, is in the "Mirror" quotes: "I concentrate on my team and take one game after the other. That is the most important thing for me." According to media reports, Dortmund's best scorer (14 goals and 14 assists after 24 games) is traded at numerous clubs from England. In addition to Liverpool, Manchester United and Chelsea, Real Madrid should also show great interest in the 19-year-old. PSG Sancho allegedly wants as Neymar heirs update 01.03.2020, 10:40 am The future of the Dortmund offensive jewel could apparently more variables have an impact than expected. One of them is probably whether PSG superstar Neymar decides to switch in the summer. The "Sunday Mirror" writes that in the event of the Brazilian's departure, Paris Saint-Germain is determined to commit Sancho as its successor. The paper speculates that in this case the team of Thomas Tuchel could possibly have the best cards on an obligation of the Englishman. The transfer fee of the recently reported 140 million euros would be easy for the club to handle, especially if a Neymar change is a lot Should wash money into the coffers of the French serial master. The offensive player has always been associated with a return to FC Barcelona in the past.Update 25.02.2020, 07:51 a.m.After the many speculations in recent weeks about a summer change from Jadon Sancho, a turnaround is now becoming apparent Report of the "Ruhr News" is a BVB farewell to the 2020/2021 season is by no means a decided thing. So far, there is apparently no sign, especially from the player side, that the 19-year-old, whose contract is dated until 2022, would like to change shortly. Those in charge and fans of Borussia Dortmund can therefore have legitimate hopes that the Englishman will still wear the black and yellow shirt in the coming season. Update 02/21/2020, 7:05 a.m. Hardly any top European club has been associated with a possible obligation of Jadon Sancho in recent months. It is now certain that the Englishman will leave BVB in summer 2020. It is also obvious that Dortmund will collect over 100 million euros for the 19-year-old. The question is: Who will be awarded the contract? According to information from "Sky Sports" Sancho is one of the "top goals" of Jürgen Klopp and Liverpool FC. The broadcaster claims that Sancho would also find it difficult to reject an offer from the Reds. Manchester United is also still interested, but the sporting perspective is much more attractive in Liverpool. Apart from that, thanks to Jürgen Klopp there is also the short line to Dortmund that is so often cited. The successful coach maintains a good relationship with the BVB bosses and could tip the scales in the event of a potential mega transfer. Update 20.02.2020, 10:32 am English media report again and again about the great interest of Manchester United in Jadon Sancho. But for the Premier League record champions to have a chance at all to sign the BVB star in the summer, the sporting perspective has to be significantly better, according to the "Sun". That is why ManUnited has to be among the first four teams this season and qualify for the Champions League. The Red Devils are currently only seventh in the league and three points behind fourth-placed FC Chelsea. According to "Sun", the sporting misery for Manchester United could ultimately be doomed for the second time in a short time. Already in poker for BVB new signing Erling Haaland, the English were the losers. The young Norwegian consciously decided not to switch to ManUnited because the perspective in Dortmund is better.Update 16.02.2020, 2:54 p.m. After the signing of Hakim Ziyech, who moves to Stamford Bridge in the summer for 40 million euros, he takes effect Chelsea FC reportedly in poker for Jadon Sancho. As "France Football" reports, the Blues have started contract talks with the Englishman. According to the BVB beckons in the event of a sale a new record: 140 million euros are to go to the Ruhr area in the summer. The most expensive Dortmund exit so far is Ousmane Dembélé, who flushed 105 million euros plus bonus payments into the coffers in 2017. FC Bayern still mixes with Update 14.02.2020, 18:11 The FC Bayern Munich apparently still mixes in poker for Jadon Sancho With. As "Sky Sports" reports, the German record champion's interest in the BVB star has recently increased, but Manchester United, Liverpool, Manchester City, Chelsea and FC Barcelona are also to continue vying for Sancho. There is talk of a transfer fee of at least 120 million euros. At the beginning of the year, the English "Metro" reported on FC Bayern's interest in Sancho. With Mario Götze, Robert Lewandowski and Mats Hummels, the Munich team have used Borussia Dortmund several times in the recent past. However, as "Mundo Deportivo" estimates from Spain meanwhile, FC Barcelona will not attempt to sign Sancho this summer. The Catalans had other transfer targets for the offensive in mind. Inter Milan's Lautaro Martínez was a top priority, and PSG superstar Neymar was still an issue. Ultimately, the Jadon Sancho simply lacks the necessary money, it says.Update 14.02.2020, 09:06 a.m.Liverpool legend Jamie Carragher praised BVB youngster Jadon Sancho for "Metro" and gave an assessment of the future of the 19-year-old As an English player, the offensive talent will "absolutely" want to switch to the island, Sancho is also the "hottest" what the market currently has to offer and "every Premier League club will try to sign him", the former English international is certain. The transfer is simply "a no-brainer". Carragher also has no doubt that the loss of the high-flyer will be sweetened by BVB with a hefty fee. "I think the transfer will bring tears to people's eyes, but over time you will realize that it was cheap in the end," said Liverpool's long-time midfielder. After all, you get a player for the money who can shape the club for ten years, most recently a transfer of over 120 million euros. Should it come to betting of the Premier League giants, the sum could also be significantly higher.Update 14.02.2020, 08:55 If it is after the former England international Glen Johnson, then Jadon Sancho does not hire Manchester United. In a "talkSPORT" podcast, the 35-year-old did not leave the Red Devils with good hair. "Pretty much any club that could afford the transfer will be after him. So he can take his time and think about it, which he chooses, "commented Johnson and added:" In my opinion, Manchester United would be the wrong decision. "The ex-professional continues:" If he now goes to United, a club that is currently not where he is As a young player, he would be under too much pressure from day one, but someone like him shouldn't have to act as a figurehead. "In addition, ManUnited would only be an" eighth or ninth choice "in Europe-wide comparison Liverpool allegedly takes BVB star SanchoUpdate 14.02.2020, 07:34 a.m.After the fixed transfer of Hakim Ziyech, Chelsea FC apparently smells morning air. According to the tabloid "The Sun", the blues are now getting serious with three other dream players – including Jadon Sancho. Although the London bosses knew about the competition for the BVB star, they would still intensify their efforts. The transfer of 120 million pounds (approx. 144 million euros) called by the Dortmunders is therefore not an exclusion criterion.Chelsea coach Frank Lampard has long been considered a great admirer of Sanchos.Update 13.02.2020, 08:34 am in courting for the coveted youngster Another top club should now make serious: Liverpool FC. The "Daily Mail" wants to have experienced this exclusively. The Reds have already contacted Borussia Dortmund and have deposited their interest.With FC Chelsea, Manchester United, Real Madrid and FC Barcelona, ​​other European football greats are to vie for Sancho, but at Merseyside there should be good hope that the race for the According to the report, Liverpool builds on the close connection of the Dortmund leadership to their ex-success and today's LFC coach Jürgen Klopp, as well as the friendly relationship Sancho has with Liverpool stars Alexander-Arnold, Alex Oxlade-Chamberlain and Jordan Henderson. The room is said to have a transfer fee of 120 million euros. Update 02/12/2020, 09:07 AM In addition to Chelsea, apparently Manchester United is also advertising and Jadon Sancho serious. As the "Mirror" reports, the Red Devils are confident that they will be able to beat the blues in the betting for Sancho. According to this, BVB is ready to let Sancho go next summer if a corresponding offer is available. A first offer from Chelsea is said to be 143 million euros, and if Manchester United really wants to outbid this amount, there could be a real bid for Sancho. Update 02/10/2020, 09:07 AM The poker around Jadon Sancho is getting worse. After all top European clubs have been interested in BVB's shooting star in the past weeks and months, a club now seems to be bidding farewell to the offensive man: FC Barcelona. According to "Don Balon", the Catalans have recently become interested volatilized. Barca is unlikely to make a new attempt at Sancho in the summer, the portal says. The reason: the reigning Spanish champions want to venture another attack on Neymar after the end of the season and bring it back to Spain, leaving Liverpool, Manchester City, city rivals Manchester United, Real Madrid and Paris Saint-Germain as potential buyers for Sancho. According to the report, these would have to put at least 120 million euros on the table for the 19-year-old.Update 05.02.2020, 13:03 clock Liverpool FC is always a hot candidate for a purchase from Jadon Sancho, now a Reds expressed Legend about a possible transfer: Sancho is "undoubtedly a great talent, does it very well in Dortmund and is a star there," Steve McManaman told horseracing.net, but the circulating transfers must be questioned. "Jadon could cost 70 to 90 million euros, that's a lot of money for someone who is still so young, even if his talent is out of the question," said the 47-year-old, who kicked ten years for the LFC. Especially since Liverpool FC has talents in their own ranks that would also do their job well, and McManaman's assumptions are even likely to be exceeded: Most recently, it was suspected that BVB would call over 100 million euros for his gem. Update 03.02.2020, 13: At 5:00 p.m., speculations about a summer change from Jadon Sancho should pick up speed again: As ex-professional and today's TV expert Jan Aage Fjörtoft tweeted, it is "very likely" that the English top star will change after this season According to information from the Norwegian, who is working for "Sky" in both England and Germany, Liverpool FC in particular should continue to be very interested in the Dortmund top performers, who have already made an outstanding 24 goal appearances this season. However, Borussia Dortmund's demands are tough. BVB is expected to charge just under 150 million euros for Sancho, which is contractually tied to the club until 2022. According to Fjörtoft, Liverpool FC should even be embarrassed with this insane amount. The exciting question of whether the Reds could handle such a large transfer is still unanswered.Update 19.01.2020, 9:37 amThe English "Mirror" once again confirms that Manchester United will do everything it can, Jadon Sancho from BVB in summer 2020 loszueisen. Therefore, the Red Devils are even ready to do without a dream player in January. According to the report, Portuguese Bruno Fernandes, who has been hotly traded at Old Trafford for weeks, will not move from Lisbon to Manchester if Sporting does not clearly push his € 80 million transfer fee. The United bosses believe that around 60 million euros would be appropriate and fear that they would send out a dangerous signal if the sum is higher. In future negotiations, other clubs could use the overpriced Fernandes transfer as a precedent and also ask Manchester to pay the price , Specifically, the paper names BVB, who is supposed to play with United for Sancho in the summer. Update 17.01.2020, 14:51 clock Now Chelsea FC is busy again in poker for Jadon Sancho. According to a report by "Sun", owner Roman Abramovich and managing director Marina Granovskaia have given the green light for the transfer. According to this, the blues can and will shell out a record sum of 140 million euros to guide the youngster to Stamford Bridge. Those responsible have allegedly inquired in Dortmund whether a winter change is realistic, but the black and yellow plan to hand in their offensive jewel in the coming summer at the earliest. Update 16.01.2020, 8:40 am In summer 2020, Jadon Sancho will leave Borussia Leaving Dortmund in all likelihood. The BVB and the Englishman will have numerous offers at this time that are too good to reject. In the black and yellow executive floor, they are supposed to be planning for this emergency. Even before Sancho agrees to a transfer, Michael Zorc and Co. want a successor for the Englishman in the rear, according to "Ruhr Nachrichten". The search for a winger is already underway. The BVB bosses also know that Sancho cannot be kept in the summer, and there should be no shortage of funds with a view to a Sancho heir, as the transfer of the Englishman will wash the Dortmunders over 100 million euros in the coffers. Update 01/09/2020, 2:40 p.m. Liverpool have apparently resumed the hunt for Jadon Sancho. As "goal.com" reported, the English international is at the top of a transfer shortlist of the Champions League winner. According to information from the sports portal, team manager Jürgen Klopp's club is ready to spend more than 80 million euros on Sancho, but BVB will not be willing to let his greatest talent go for this sum. In addition to Sancho, Leon Bailey of Bayer Leverkusen is also said to be on Liverpool's slip of paper. Update 08.01.2020, 7:59 p.m. According to "Sky", a change from Jadon Sancho to FC Bayern München "is definitely not an option". The Englishman did not want to change within the Bundesliga. Previously, the English "Metro" had reported the interest of the record champions. According to Sancho "Sky" will also appear in the upcoming second round for BVB. Accordingly, a transfer in January is excluded. A farewell in summer, on the other hand, is almost certain: Manchester City, city rivals Manchester United, FC Barcelona, ​​Real Madrid and Paris Saint-Germain are vying for the services of the 19-year-old attacker. Update 04/01/2020, 11:13 AM Chelsea FC "Sun" and Mirror report that the interest in the young Englishman has cooled somewhat. The reason: Londoners prefer to hire a striker in winter to put pressure on youngster Tammy Abraham Twelve league goalscorer Abraham is on manager Frank Lampard's team, and Olivier Giroud is flirting with a farewell, so there's no real alternative. The rumors are growing that the Blues are trying to sign Wilfried Zaha of Crystal Palace Then, according to the "Mirror", however, the necessary money is missing for a Sancho-Transfer.FC Bayern to BVB star Sancho? Update 03.01.2020, 14:39 UhrLast the two Premier League were valid Clubs Manchester United and Chelsea FC as the hottest candidates for a possible Sancho transfer. But now obviously Bayern are also vying for the BVB star. The English "Metro" reports. With Mario Götze, Robert Lewandowski and Mats Hummels, FC Bayern have used Borussia Dortmund several times in the recent past. BVB would probably prefer a change of Sancho to the island. But the chances of Manchester United and Chelsea FC also depend on the further course of the season. According to the further report, the winger does not want to play in the Europa League next season.Update 30.12.2019, 11:05 am According to the English "Express", FC Chelsea now wants to do everything possible to get rid of Jadon Sancho from Borussia Dortmund after the transfer ban has been lifted , According to this, CFC owner Roman Abramovich made 175 million euros loose for newcomers, a whopping 140 million euros from this sum should flow into a Sancho deal – a clear club record. In order to make the farewell of his jewel even more tasty to the BVB, the Londoners are even ready to buy Sancho in January and to lend it back to Dortmund by summer 2020. With the same gimmick, the men from England's capital secured the services of the former Dortmund youngster Christian Pulisic at the beginning of 2019.Update 12/30/2019, 7:50 a.m. With Erling Haaland, BVB has the hoped-for reinforcement for the offensive on the winter transfer market found. The purchase of the Norwegian could also be a signal for an imminent sale of Jadon Sancho. The British Times writes that the Dortmunders are now ready to listen to offers for Sancho. However, the question remains unanswered whether the black and yellow might even consider a transfer in winter. However, a sale in the summer is very likely. The Times estimates the possible transfer fee for Sancho as 115 million euros – at least. The four main interested parties are, according to the newspaper Manchester United, Manchester City, Real Madrid and FC Barcelona. Michael Zorc: "We continue to plan with him" Update 22.12.2019, 7:35 a.m.Only the transfer ban is lifted, Chelsea FC goes all in! According to media reports, the blues are currently working on a deal to convince Jadon Sancho to sign it. According to "Sun", the Londoners are allegedly ready to transfer a transfer fee of 140 million euros to Dortmund. Meanwhile, the "talksport" portal reports that those responsible for the blues are confident that the deal will take place in winter and they could knock out both Liverpool FC and Manchester clubs. The "Project Sancho" is a top priority for the bosses, it is said. Whether BVB will help Chelsea with a possible transfer, however, can be doubted. Just a few days ago Michael Zorc said: "We continue to plan with him, he is an elementary important player. I see no scenario that he will leave us." Update 19.12.2019, 03:37 PM With Manchester United, Manchester City and FC Chelsea are said to be interested in several Premier League clubs in Jadon Sancho. Now Borussia Dortmund has apparently called out a price tag for the youngster. As the Norwegian TV expert Jan Aage Fjortoft reports on Twitter, BVB is demanding the equivalent of around 150 million euros for Sancho, and Liverpool FC is also interested in the winger. After the Dortmund demand, the efforts of the Reds are said to have decreased somewhat. A winter change from Sancho should also be off the table.Update 14.12.2019, 09:14 In summer 2017, Jadon Sancho turned his back on Manchester City, joined BVB and took off. Now there is a return in the room. The Citizens are currently intensifying their efforts for the prodigal son. The "Daily Mail" reports exclusively. Sancho himself is considering moving to his ex-club, and although the report says ManCity does not have any clause that would prove to be a great advantage in poker, BVB would have to inform the English if they were considering a sale draws. City could then outbid any bids. A farewell in winter, however, seems unlikely. "We continue to plan with him, he is a fundamentally important player. I see no scenario that he will leave us," Dortmund's sports director Michael Zorc recently said to "Sky" about the Causa Sancho. The contract of the English international ends in the summer of 2022.Update 13.12.2019, 09:10 a.m.Jadon Sancho's escapades on and especially next to the field have not taken place in the past few weeks. The situation around the coveted youngster has calmed down a bit, the signs also indicate that it will remain in Dortmund. However, this does not in any way detract from the interest of the top European clubs. So Manchester United continues to firmly assume an obligation of the English. The Red Devils see themselves a report of the "Mirror" in the pole position in the competition for Sancho. The English record champions allegedly also stretched out the feelers after the change-willing Christian Eriksen. The Dane, still in the service of Tottenham Hotspur, does not want to extend his contract, which expires in the summer. In order to flush money into the coffers, he should leave the club in winter. Manchester would like to put together the double package and sign both players in January. United would rather sell players than to let this option pass, it is said. Update 09.12.2019, 15:28 clock The latest information provides the renowned sports portal "The Athletic". According to information from the site, Borussia Dortmund has under no circumstances planned to hand over its 19-year-old superstar before the upcoming summer. In the forthcoming transfer period in January, Sancho should definitely be kept in the club in order to be able to make full use of the last formally powerful wing racer in the championship fight of the Bundesliga. Only with an "astronomically high" transfer fee, the Dortmund club bosses could still ponder according to the report. This should amount to at least 200 million euros. That any club is ready to put this gigantic sum on the table can be doubted. "The Athletic" also reported on the background of the last Champions League game at FC Barcelona (1-3), as Sancho for disciplinary reasons was banked in the first half. According to the portal, the Briton is said to have arrived three minutes late for the team meeting before the Barca duel. Head coach is said to have been angry, but refrained from a suspension. Only at the urging of some teammates would Favre have decided to let Sancho braise on the bench for at least 45 minutes. The sports side claims to have learned this information from the team's surroundings. Update 09.12.2019, 7:20 am With the 5-0 victory of Borussia Dortmund over Fortuna Düsseldorf, Jadon Sancho once again presented itself from its very best side. The 19-year-old Englishman put together a double pack and put on a hit. Now there are some indications that BVB can look forward to further brilliant acts at least until the end of the season. The probability of saying goodbye in winter is "at zero percent", reports the "kicker" with reference to BVB sports director Michael Zorc. The magazine also wants to know that Sancho is not playing a second with this idea. Instead, the youngster is striving to celebrate successes with Dortmund and to position itself well for the 2020 European Championship. For this goal, the offensive player is ready to block out annoying background noises – even "lucrative advertising measures", it says. Update 08.12.2019, 10:55 am Can BVB take a deep breath? According to a Daily Mirror report, Manchester City is apparently moving away from a Rückkol action by Jadon Sancho. The Sky Blues are therefore not interested in bringing the youngster, who left BVB for just under ten million euros in summer 2017, back to Manchester and want to leave the betting for the youngster to the league competition. In addition to City's city rival Manchester United, Chelsea FC is reaching out to Sancho. In the pole position for a change in the summer, according to "Mirror", however, table leader FC LiverpoolUpdate 07.12.2019, 11:00 p.m. Chelsea FC breathes a sigh of relief, at BVB the tremors start. On St. Nicholas Day, the CAS lifted the transfer ban against the blues and promptly rumors spread that Londoners could still oblige in winter. According to "Sun", Chelsea Sancho is at the top of the wish list. When asked about the rumors, BVB sports director Michael Zorc put a verbal bar on a winter change of the English youngster. "I don't see a scenario that he will leave us," said Zorc before the 5-0 spectacle against Fortuna Düsseldorf about Sancho, who should have increased his market value once more with BVB's win with a double pack. Update, 06.12.2019, 08 : 29 p.m. In summer 2017, Borussia Dortmund lured Jadon Sancho from the youngsters from Manchester City to the Ruhr area, paid only a training allowance of EUR 7.8 million and celebrated an absolute coup: Sancho has become a top star and is now worth over EUR 100 million. A fact that ManCity has also noticed, the Sky Blues are said to be planning to bring their own crop back. This is reported by "Don Balon". Team manager Pep Guardiola is therefore a big fan of the 19-year-old, Sancho should again encourage a return because he thinks Guardiola is the best coach of his career so far, according to the report that around 120 million euros will be due for Sancho, so City would be a minus of over 110 million euros. In Manchester, the sale of the English is considered a "historic mistake", but is also afraid that it could be made worse. The club bosses should have reservations, because they trust Guardiola to let Sancho acidify on the bench if he doesn't deliver straight away. Update, 05.12.2019, 11:43 am In poker for BVB youngster Jadon Sancho with FC Chelsea's next top European club have stepped up their efforts. The blues are said to have "great chances" of a transfer. "Goal.com" wants to have experienced this exclusively. Accordingly, the Londoners are even ready to pulverize their own transfer record for the services of the offensive player. The transfer should therefore be more than 80 million euros. For this sum, goalkeeper Kepa Arrizabalaga switched to Chelsea in summer 2018. The "Sun" takes up the report and suspects that around 106 million euros would be due. However, a deal could only take place after the current season at the earliest. A transfer ban prohibits the capitals from engaging new players in winter.Update, 04.12.2019, 07:34 am According to a report by "Sport Bild", Sancho does not want to leave BVB this winter. A farewell should not be an issue, according to the sports magazine, neither for the player himself, nor for his management or Borussia Dortmund. As a regular player in the fight for the first German championship in eight years, the 19-year-old is now firmly planned with Lucien Favre, and what it looks like after the end of the season in terms of BVB farewell is on a different sheet of paper. As is well known, Sancho is contractually bound to Borussia in Dortmund until 2022. Update, 03.12.2019, 6:33 p.m. The "Express" quoted Jürgen Klopp, who spoke before the Merseyside derby on Wednesday about the Reds' transfer plans. Dabei deutete der Teammanager des FC Liverpool an, dass Gelder für Transfers bereitstehen, die bevorzugt im Winter passieren sollen.Die englische Zeitung spekuliert, dass Klopps Worte vor allem in Richtung Jadon Sancho zielen könnten, der seit Wochen mit den Reds in Verbindung gebracht wird. "Wir sprechen nicht darüber, was wir genau tun werden", erklärte Klopp vor dem Spiel gegen den FC Everton, fügte jedoch vielsagend hinzu: "Wir sind immer bereit, falls wir einen Transfer tätigen können, der uns hilft."Im Sommer sei der Markt überhitzt und aufgrund der verschiedenen Transferfenster schwierig zu managen, so Klopp. Deshalb blicke der FC Liverpool verstärkt in den Januar 2020. Nach den letzten Medienberichten wäre dieser Zeitraum passend, um Sancho vom BVB an die Anfield Road zu lotsen. Update, 02.12.2019, 14:05 UhrGeht jetzt alles ganz schnell? Laut eines Tweets von Ex-Profi Jan Aage Fjörtoft will Jadon Sancho Borussia Dortmund bereits im Januar den Rücken kehren. Favorit auf eine Verpflichtung des jungen Engländers ist demnach der FC Liverpool.Fjörtoft, der in der Bundesliga für Eintracht Frankfurt kickte und derzeit als TV-Experte arbeitet, beruft sich auf eine "sehr gute Quelle in Deutschland". Weitere Einzelheiten nannte der Norweger allerdings nicht.Update, 29.11.2019, 08:48 UhrDas Tischtuch zwischen Borussia Dortmund und Jadon Sancho scheint endgültig zerschnitten. Das untermauert ein Medienbericht aus England. Gegenüber dem "Independent" bezeichnet eine nicht näher genannte Quelle die Situation als "Krieg an allen Fronten". Sancho will den BVB demnach verlassen, die Borussen den Youngster loswerden. Durch die Eskapaden der letzten Wochen – unter anderem soll Sancho mehrfach unpünktlich gewesen sein – soll in Dortmund die Erkenntnis gereift sein, dass man sich bereits im Winter Angebote für den englischen Nationalspieler anhören wird.Interesse besteht dem Bericht zufolge vor allem bei den Top-Klubs der Premier League. Manchester United, Sanchos Jugendklub Manchester City und der FC Liverpool sollen im Poker mitmischen. Zudem befinde sich Real Madrid im ständigen Austausch mit den Borussen.Für Dortmund hat der Ärger um seinen Offensivspieler einen weiteren negativen Aspekt. Zwar rechnet der BVB weiterhin mit einer Ablöse von etwa 110 Millionen Euro, der Wunsch, Sancho zu verkaufen, schwächt die Verhandlungsposition allerdings.Update, 29.11.2019, 07:32 UhrTV-Experte Dietmar Hamann hat dem BVB einen baldigen Schlussstrich unter das Kapitel Jadon Sancho empfohlen. "Nicht nur die Ergebnisse sondern auch die Art und Weise und die Unruhe in der Mannschaft der letzten Wochen sprechen Bände", erklärte Hamann in seiner Kolumne bei "Sky" und zielte damit auf den England-Youngster. "Vor allem die Personalie Sancho steht für mangelnden Respekt gegenüber den Mitspielern, dem Trainer und dem Klub. Von Disziplin ganz zu schweigen", spielte der 46-Jährige auf die vielen Verfehlungen des Offensivspielers an."Man muss sehen, ob nicht vielleicht schon im Winter jemand so tief in die Tasche greift und der BVB mit einem Verkauf viel Geld und mehr Ruhe bekommt", so Hamann. Denn: "Wenn's nach mir ginge, würde ich ihn so schnell wie möglich verkaufen. Je früher desto besser."Von der Qualität her sei Sancho zwar unumstritten. Doch "wer ständig zu spät kommt und somit Kollegen und Bosse brüskiert, den darf man dann natürlich auch nicht aufstellen", verteilte Hamann einen Seitenhieb in Richtung Dortmund-Coach Lucien Favre und sparte auch nicht mit Kritik an den BVB-Bossen:"Es ist jetzt innerhalb von knapp zwei Jahren der dritte Fall (Dembélé, Aubameyang) eines hoch talentierten Profis, der dem BVB auf der Nase herumtanzt. Vielleicht müssen sich die Verantwortlichen fragen, warum das ständig ihnen passiert?"Update: 28.11.2019, 10:05 UhrDie Liste der Top-Klubs, die Interesse an den Diensten von Jadon Sancho haben, ist bekanntlich lang. Der 19-Jährige darf offenbar zwischen den besten Mannschaften Europas frei wählen. Der "Daily Star" berichtet nun mit Berufung auf die "Times", dass Sancho längst nicht mehr einen Wechsel in die englische Premier League präferiert. Der BVB-Star wolle vielmehr nach Spanien ziehen und bei Real Madrid oder dem FC Barcelona unterkommen, heißt es.Klubs aus England, wie Manchester United oder der FC Liverpool, hatten sich dem Vernehmen nach bereits gute Chancen auf einen Sommer-Transfer ausgerechnet. Ole Gunnar Solskjaer, Teammanager der Red Devils, soll Sancho zum Transferziel Nummer eins erkoren haben.Update: 26.11.2019, 10:07 UhrNachdem Jadon Sancho verspätet von einer Länderspielreise zurück nach Dortmund kam, strich der BVB seinen Offensiv-Youngster für eine Partie aus dem Kader. Es folgte eine saftige Geldstrafe und letztlich die Höchststrafe gegen den FC Bayern, als Coach Lucien Favre den Engländer nach nur 36 Minuten vom Feld nahm. Umstände, die bei Sancho angeblich Spuren hinterlassen haben. "Don Balon" will erfahren haben, dass das Verhältnis zwischen Favre und Sancho inzwischen "komplett zerstört" sei.Einen Ausweg könnte demnach ein Wechsel zu Real Madrid bieten. Wie das Portal berichtet, sind die Königlichen bereit, neben einer stattlichen Ablösesumme auch noch einen Stürmer an die Dortmunder abzugeben, um Sancho unter Vertrag nehmen zu können. Demnach hat Real dem BVB ein Angebot in Höhe von 120 Millionen Euro plus Stürmer Mariano Díaz für Sancho unterbreitet.Mariano wurde in der Vergangenheit bereits mit dem BVB in Verbindung gebracht. Unter Trainer Zinédine Zidane kommt der 26-Jährige in dieser Saison gar nicht zum Zug und stand noch nicht einmal im Kader der Königlichen.Update, 24.11.2019, 12:27 UhrBeim wenig ruhmreichen 3:3 gegen den SC Paderborn am vergangenen Freitag hatte Jadon Sancho mit einer Vorlage und einem Tor großen Anteil daran, dass Borussia Dortmund überhaupt noch einen Zähler einfahren konnte. Dennoch soll beim BVB-Youngster derzeit nicht unbedingt gute Stimmung herrschen.Sancho fühle sich "gedemütigt" und zum "Sündenbock" abgestempelt, das berichtet "The Athletic" exklusiv. Demnach haben dem jungen Engländer die Geschehnisse der letzten Wochen zugesetzt.Nachdem er Mitte Oktober verspätet von einer Länderspielreise nach Dortmund zurückkehrte, strich der BVB Sancho für eine Partie aus dem Kader. Beim Debakel gegen den FC Bayern am 11. Spieltag der Fußball-Bundesliga setzte es die Höchststrafe: Trainer Lucien Favre schickte Sancho nach 36 schwachen Minuten noch vor dem Pausenpfiff unter die Dusche.In der Folge schossen einmal mehr Gerüchte ins Kraut, Sancho werde den BVB im Sommer verlassen. "The Athletic" befeuert die Spekulationen und nennt vor allem den FC Barcelona, FC Liverpool, Manchester United und Real Madrid als Interessenten.Update, 18.11.2019, 18:41 UhrBVB-Sportdirektor Michael Zorc sieht keine Parallelen zwischen Jadon Sancho und Ousmane Dembélé, der sich 2017 seinen Wechsel von Dortmund zum FC Barcelona erstreikt hatte. Bei Sancho gebe es dafür "überhaupt keinen Hinweis", sagte Zorc der "WAZ".Sancho sei noch sehr jung und habe "lange eine Konstanz gehabt, die eigentlich unnatürlich war für einen Spieler in seinem Alter. Natürlich hat er gerade nicht seine beste Phase, aber er wird da wieder rauskommen", so Zorc.Sancho konnte in den letzten Wochen auf dem Platz nicht an seine Leistungen der Vormonate anknüpfen. Zudem gibt es immer wieder Gerüchte, der Youngster sorge abseits des Platzes mit seiner arroganten Art für Ärger und halte sich nicht an Regeln.Update, 17.11.2019, 09:47 UhrNeben zahlreichen Topklubs aus England und Spanien ist laut dem "Daily Express" nun auch Paris Saint-Germain in den Poker um Jadon Sancho eingestiegen. Demnach haben die Franzosen den Youngster zum Transferziel Nummer eins auserkoren.PSG ist angeblich bereit, dass kolportierte 140-Millionen-Euro-Angebot von Manchester United zu übertrumpfen. Es könnte also zu einem regelrechten Wettbieten um Sancho kommen.Grund für die Transferoffensive von PSG ist die unklare Zukunft von Neymar. Der Brasilianer stand schon im Sommer kurz vor einem Wechsel, ein Abschied ist weiterhin nicht ausgeschlossen.Update: 16.11.2019, 14:50 UhrNach den jüngsten Spannungen zwischen Jadon Sancho und Fußball-Bundesligist Borussia Dortmund wittert Manchster United anscheinend eine Chance, den BVB-Star schon bald von einem Wechsel zu überzeugen.Wie der englischen "Mirror" berichtet, plant der abgestürzte Premier-League-Gigant im Winter einen Großangriff auf dem Transfermarkt. Der Dortmunder Flügelstürmer wird in dieser Rechnung mit mindestens 120 Millionen Euro taxiert.Grundlage für die neuen Spekulationen bilden die gegenwärtige Formkrise des Engländers und seine jüngsten Konflikte mit der Vereinsführung.Update: 15.11.2019, 08:06 UhrJadon Sancho hat sich endgültig entschieden, Borussia Dortmund spätestens im kommenden Sommer den Rücken zu kehren. So heißt es in der englischen "Daily Mail". Allen voran der FC Liverpool, der FC Chelsea und Manchester United buhlen demnach um den Youngster.Auch "Bild" zufolge rückt ein Abschied des Flügelstürmers immer näher. Sancho habe mittlerweile das "grundsätzliche OK des BVB" für einen Wechsel, heißt es. Grundvoraussetzung sei jedoch, dass sein neuer Arbeitgeber mindestens 140 Millionen Euro auf den Tisch legt.Zwar will die Dortmunder Chefetage Jadon Sancho unbedingt bis zum Sommer halten. Dem Boulevardblatt zufolge wird jedoch selbst ein Winter-Wechsel bei einem entsprechenden Angebot nicht mehr ausgeschlossen.Update: 14.11.2019, 11:19 UhrReal Madrid soll weiterhin großes Interesse an einer Verpflichtung von Jadon Sancho hegen. Aus diesem Grund soll Florentino Pérez, der Präsident der Königlichen, angeblich einen verlockenden Plan ausgearbeitet haben, mit dem er dem BVB einen Abgang seines Top-Talents schmackhaft machen will.100 Millionen Euro sollen als sichere Ablöse den Besitzer wechseln, weitere Bonuszahlungen vereinbart und die einjährige Leihe von Real-Youngster Vinícius Júnior zum BVB garantiert werden. Das berichtet "Don Balon". Der brasilianische Nationalspieler absolvierte in der laufenden Saison elf Pflichtspiele für die Real-Profis. Dabei erzielte der 19-Jährige einen Treffer und bereitete ein Tor vor.Der Deal scheint jedoch in erster Linie für die Madrilenen Sinn zu ergeben. Immerhin entpuppte sich das letzte Leihgeschäft zwischen Real und dem BVB als großer Erfolg: So steigerte Achraf Hakimi seinen Wert bei den Borussen um ein Vielfaches und dürfte im kommenden Sommer mit reichlich Erfahrung nach Spanien zurückkehren.Update: 13.11.2019, 09:11 UhrTrotz des Formtiefs des Shooting-Stars plant der BVB "Bild" zufolge keinen Verkauf von Jadon Sancho. Die Dortmunder Führungsetage wolle das Minimalziel Champions League nicht gefährden, heißt es weiter. Gleichwertiger Ersatz für den Youngster wäre im Januar zudem wohl nicht zu bekommen.Interessenten für Sancho gibt es zur Genüge. Im Sommer führte sein Berater Emeka Obasi bereits Gespräche mit Manchester United, wie BVB-Sportdirektor Michael Zorc später bestätigte. Auch weitere internationale Top-Klubs sollen ihre Fühler nach Sancho ausgestreckt haben.Hans-Joachim Watzke schloss einen Abgang im Sommer zuletzt nicht aus. "Wenn irgendwas kommt – oder vielleicht er kommt und sagt: 'Ich würde ganz gerne zu den und den Konditionen wechseln', dann bespricht man das miteinander", sagte der BVB-Boss bei "Sky".Jadon Sancho zu arrogant? Shooting-Star beim BVB in der KritikUpdate: 11.11.2019, 15:29 UhrSeit Wochen befindet sich Jadon Sancho bei Borussia Dortmund im Formtief. Neben dem Platz soll das Offensiv-Juwel mit seiner arroganten Art beim BVB immer mehr anecken.Wie der "kicker" berichtet, halte sich der 19-Jährige nicht an Regeln, die eigentlich für das gesamte Team gelten. Die Entwicklung werde im Klub "kritisch registriert", heißt es.Nach außen drangen die Probleme Mitte Oktober, als Sancho zu spät von einer Länderspielreise mit der englischen Nationalmannschaft nach Dortmund zurückkehrte. Die Verantwortlichen strichen den Youngster daraufhin für das Bundesliga-Spitzenspiel gegen Borussia Mönchengladbach aus dem Kader. Zudem zahlte Sancho laut "Bild" eine Geldstrafe in Höhe von 100.000 Euro.Auf dem Platz konnte der Edeltechniker seiner Mannschaft zuletzt darüber hinaus nur selten weiterhelfen. Beim 0:4-Debakel gegen den FC Bayern München wechselte Trainer Lucien Favre den eigentlich als Leistungsträger eingeplanten Flügelstürmer bereits in der 36. Minute aus – nicht aus Verletzungsgründen, sondern aufgrund seiner desaströs schwachen Vorstellung (sport.de-Note 6). Auch in den Wochen zuvor präsentierte sich Sancho immer wieder weit entfernt von seiner Top-Form.Update: 08.11.2019, 15:29 UhrNach wie vor gehört Jadon Sancho vom BVB zu den begehrtesten Youngstern in Europa. Geschäftsführer Hans-Joachim Watzke schob einem Wechsel des Flügelflitzers vorerst einen Riegel vor – und öffnete gleichzeitig die Tür für einen Abgang des Engländers."Nö, weil er einen Vertrag bei uns hat", stellte Watzke im Interview mit "Sky" klar, dass Sancho im kommenden Sommer aufgrund seines bestehenden Vertrags nicht auf dem Markt ist.Gleichzeitig betonte der BVB-Boss aber, dass Verein und Spieler in ständigem Kontakt über etwaige Zukunftspläne stehen und sich auch über einen möglichen Transfer unterhalten würden: "Ein Spieler wie Jadon, der natürlich ein außergewöhnliches Talent hat – da muss man auch nicht so tun, als wenn wir nicht mit ihm reden würden, wenn irgendwas kommt. Vielleicht kommt er und sagt 'Ich würde gerne zu den und den Konditionen wechseln', dann bespricht man das miteinander."Gänzlich ausschließend kann der Geschäftsführer einen vorzeitigen Sancho-Abschied nicht. "Ich gebe keine Garantien für die Ewigkeit", bemerkte er und ergänzte: "Ich kann nur sagen: Wenn niemand kommt, sind wir am glücklichsten."Update: 05.11.2019, 08:32 UhrLaut der "Daily Mail" streckt der spanische Gigant Real Madrid zum wiederholten Male seine Fühler nach Jadon Sancho aus. Die Königlichen wollten den Angreifer schon ins Santiago Bernabéu locken, als er noch bei Manchester City unter Vertrag stand. Nun sollen sie sich auf einen Mega-Deal im kommenden Sommer vorbereiten.Sancho hat sich seit seinem Wechsel zu Borussia Dortmund im Jahr 2017 zu einem der begehrtesten Talente Europas entwickelt. In der Saison 2018/2019 sammelte er in 43 Pflichtspielen unfassbare 32 Scorerpunkte (13 Tore, 19 Vorlagen).Übereinstimmenden Medienberichten zufolge sollen sich die BVB-Bosse bereits damit abgefunden haben, Sanchos letzte Saison in Schwarz-Gelb zu erleben, und die Nachfolgersuche vorantreiben. Dafür sollen rund 120 Millionen Euro zur Verfügung stehen. Mindestens so viel soll ein Verkauf Sanchos nämlich einbringen.Die Nachricht, dass Real Madrid die Chancen eines Transfers auslotet, ist ein neues potenzielles Hindernis für Manchester United beim Versuch, den gebürtigen Londoner Sancho zurück nach England zu holen. Im europäischen Vergleich stehen die Spanier derzeit besser da als die Red Devils, die nicht in der Champions League vertreten sind.Neben Real wird auch PSG als möglicher Abnehmer gehandelt. Der französische Meister mit dem deutschen Trainer Thomas Tuchel versucht seit einiger Zeit, Sancho von einem Engagement in der Stadt der Liebe zu überzeugen.Voraussichtlich wird auch Ex-Klub Manchester City eine Rolle im Poker um den Three-Lions-Star spielen. Die Sky Blues sollen ein sogenanntes "Matching Right" bei Sancho besitzen. Heißt: Sobald ein Verein ein konkretes Angebot beim BVB hinterlegt, muss der englische Champion informiert werden, um die Offerte gegebenenfalls toppen zu können.Update: 04.11.2019, 19:39 UhrMitte Oktober erklärte der deutsche Ex-Nationalspieler Dietmar Hamann, der die Fußball-Schuhe in seiner Laufbahn unter anderem für den FC Bayern und den FC Liverpool schnürte, dass die Reds "großes Interesse" an Jadon Sancho von Borussia Dortmund hätten. Nun schwärmt ein weiterer ehemaliger Liverpool-Star vom BVB-Offensivspieler."Um ehrlich zu sein, würde Jadon Sancho jedem der zwei, drei Top-Teams gut zu Gesicht stehen", erklärte Ex-Stürmer Emile Heskey im Gespräch mit dem "Daily Star". Der 19-Jährige sei schlicht für jedes Team der Premier League – und sogar für jeden Klub der Welt – eine "fantastische" Verstärkung, so Heskey weiter. "Seine Tore, seine Vorlagen, seine Vorstöße machen den gegnerischen Abwehrverbänden Angst", schließt Heskey.BVB-Abgang rückt angeblich näher: Gerüchte um Jadon Sancho nehmen Fahrt aufUpdate: 02.11.2019, 12:00 UhrDie Gerüchte um Jadon Sancho nehmen wieder Fahrt auf. Galt Manchester United lange Zeit als heißester Anwärter auf eine Verpflichtung des Youngsters, mischt nun ein weiterer Top-Klub von der Insel mit.Einem Bericht des "Telegraph" zufolge bemüht sich der FC Chelsea ebenfalls intensiv um den 19-Jährigen. Das Blatt nennt einige Gründe, die für einen Wechsel zu den Blues sprechen.So setzt Trainer Frank Lampard zum einen auf junge Spieler. Zum anderen hat Sancho mit Tammy Abraham und Callum Hudson-Odoi zwei Kumpels in der Mannschaft, die ihm von einem Wechsel an die Stamford Bridge sicher nicht abraten würden.Dem Bericht zufolge ist ein Winter-Transfer nicht gänzlich ausgeschlossen, wahrscheinlicher ist aber, dass das Wettbieten um den begehrten Engländer erst im Sommer startet.Update: 28.10.2019, 12:21 UhrManchester United zeigte schon in der vergangenen Sommer-Transferphase großes Interesse an Jadon Sancho von Borussia Dortmund. Der BVB winkte allerdings ab und verwies auf dessen bis 2022 gültiges Arbeitspapier. Die Engländer sparen jedoch angeblich bereits für ein neues Angebot.Wie der englische "Mirror" berichtet, arbeiten die Red Devils aktuell fieberhaft an einem neuen Deal, um den 19-Jährigen in die Premier League zu locken. United-Boss Ed Woodward soll nunmehr bereit sein, selbst horrende Forderungen der Borussia zu erfüllen. Im Raum steht anscheinend eine Offerte über mindestens 100 Millionen Pfund (115 Millionen Euro).Zuletzt hatte die "Sun" behauptet, Sancho könnte dem Revierklub nach der Saison sogar umgerechnet rund 170 Millionen Euro einbringen. Bislang ist der Verkauf von Ousmane Dembélé zum FC Barcelona der teuerste Abgang der schwarz-gelben Vereinsgeschichte. Der Franzose kostete Barca bislang 125 Millionen Euro, die Summe kann durch Bonuszahlungen noch auf 145 Millionen Euro ansteigen.Jadon Sancho auch ein Thema beim FC Liverpool?Update: 21.10.2019, 12:40 UhrEx-Nationalspieler Dietmar Hamann kann sich einen Wechsel von BVB-Juwel Jadon Sancho zum FC Liverpool vorstellen. Offenbar sehen das auch die Verantwortlichen der Reds so.In der Fernsehsendung "Sky90" deutete Hamann einen möglichen Wechsel des Engländers im nächsten Sommer an. "Was ich höre ist, dass Liverpool großes Interesse hat. Ich könnte mir vorstellen, dass sie im kommenden Sommer einer der größten Interessenten werden könnten".Bisher war nur über einen Abgang Sanchos zu den zwei Klubs aus Manchester spekuliert worden. Liverpool wurde dagegen höchstens als Außenseiter im Poker um den Youngster genannt.Die Optionen aus Manchester hält der einstige England-Legionär Hamann aber für unwahrscheinlich: "Er kommt ja von Manchester City und ich weiß nicht, ob er nochmal zurückkehren würde. Auch bei Manchester United ist es so eine Sache, wenn die Spieler schon einmal beim Rivalen waren", so der Ex-Nationalspieler.