Youngster of FC Bayern as a warning example: case Arp should be Moukoko warning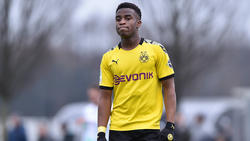 On Monday, Youssoufa Moukoko, who was the upcoming superstar at Borussia Dortmund, trained for the first time with the German U19 national team. Trainer Guido Streichsbier now explained why the 15-year-old BVB youngster had previously been nominated for two and a half years for no German junior selection.
"We are delighted that Youssoufa is there," Streichsbier told "Bild", but also made it clear that the expectations of the top scorer in the U19 Bundesliga should not be too high. The public, the media and those in charge of sport should "develop the gift of keeping the backpack as light as possible for the boy".
    
A project that has proven difficult in the past. No wonder: As a 12-year-old, Moukoko already scored three goals in four appearances for the German U16 in 2017, in the U17 Bundesliga he became a record scorer with 90 goals in 56 appearances between 2017 and 2019. "It doesn't work if we burned a 12-year-old on hell at the time. Nobody has any of it – neither the club nor the association and certainly not the player, "explained Streichsbier, why one subsequently renounced Moukoko internationally. In retrospect, the step "paid off," continued the 50-year-old, who also praised the collaboration with BVB. BVB talent Moukoko "definitely impressive" There is no doubt that Moukoko is an exceptional talent. "I have been rooted in youth football for a long time and have a good knowledge of history. His odds are definitely impressive," enthused Streichsbier. The interest in the German-Cameroonian is already "enormous", although so far he has only been allowed to play in the youth field. However, a successful career is not a sure-fire success. As a warning example, Streichsbier Fiete Arp from FC Bayern München, who switched from HSV to FC Bayern München in summer 2019, has recently disappeared from the public eye. "We have to be careful that Youssoufa does not develop as it did at Fiete Arp. […]. At Fiete, the expectations nationwide became so fast that a 17-year-old should suddenly wear the HSV alone. That is not possible – and there we are all challenged. "Moukoko at BVB in the best hands Certainly also a reason why Streichsbier considers the reduction in the age limit in German professional football to 16 years as" justifiable, but at the same time highly sensitive ". "We mustn't let the market or the competition drive us too much. The focus must always be on the young player and the best possible for his development." Instead, the DFB coach would like to see a commission decide on a case-by-case basis, but in the Moukoko case, Streichsbier has less concerns. It is "totally okay" that BVB will soon train their attacker with the Bundesliga team. Especially since the Dortmund team had "shown a very good instinct for Youssoufa in the past years". BVB junior manager Lars Ricken had experienced a similar situation personally, sports director "Michael Zorc is a child of the Bundesliga, has already turned countless teenagers into professionals" and coaches "Lucien Favre is just extremely experienced. Youssoufa is in good hands and totally clear," concludes Streichsbier. Moukoko could celebrate his debut in the U19 national team at the end of March. Then the European Championship qualifying games against Wales, Austria and Serbia are on the program